Tony Cacciarelli of Aja Video Systems gives us a breakdown of their hottest new products including 4K..!
@AJAVideo @NabShow 2013 from Ryanb. Aka: Filmguy on Vimeo.

Ki Pro Quad
4K/QuadHD/2K/HD Solid State Recorder
Ki Pro Quad enable a manageable 4K/Quad HD/2K/HD workflow with the efficiencies of Apple ProRes and the flexibility of RAW data in a compact, solid state recording and playback package that easily mounts directly on a variety of cameras.
Only $3,995 US MSRP*
* Pricing is for US only. International pricing will vary.
Please contact a local AJA Reseller for pricing details.
---
Manageable 4K
Utilize the power of Apple ProRes to work in high-quality 4K without the need for a supercomputer.
Learn more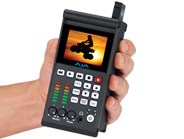 HD now, 4K when you need it
Ki Pro Quad supports 4K, Quad HD, 2K and HD resolutions at 4:2:2 and 4:4:4, giving you the flexibility to use one device now and into the future.
Learn more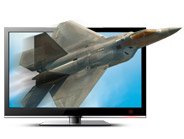 Powerful
Ki Pro Quad is the hub of 4K production with real-time debayering of RAW data as well as simultaneous HD and 4K monitoring.
Learn more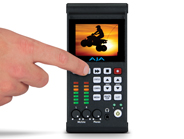 Affordable
Getting into 4K doesn't have to be expensive. Ki Pro Quad offers functionality not found in recorders of ANY price.
Learn more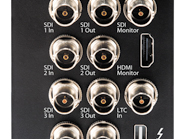 ROI
Mini-Converter
AJA's ROI Mini-Converter allows exceptionally high quality conversion of computer DVI and HDMI outputs to baseband video over SDI at an affordable price and a very portable size. With incredible image scaling, extensive aspect ratio and frame rate conversion, and audio functionality ROI fulfills the growing need to properly incorporate computer signals into the video world without sacrificing budget or space.
Only $995 US MSRP*
* Pricing is for US only. International pricing will vary.
Please contact a local AJA Reseller for pricing details.
---
Region of Interest
The free MiniConfig application lets you interactively select a Region of Interest from the incoming DVI or HDMI signal and control how that region is scaled to the output resolution using AJA's high quality scaling algorithms for the cleanest picture quality possible. Eliminate extra interface clutter and menu bars and extract only the portion of the image you want.
Conversion
Take full control of aspect ratio and frame rate conversion with on-screen controls in the MiniConfig software that show you exactly what your source and output will look like and what formats are coming in and going out. Simple menu controls let you quickly choose the proper output for any situation.
Connectivity
ROI utilizes a DVI loop through, allowing it to be placed in-line so you still have a connection to an external DVI or HDMI monitor while extracting to SDI. The reference input ensures the SDI signal out of ROI is locked for use throughout a production or facility.
Audio
ROI accepts 2-channel audio from the 3.5mm analog audio input or embedded 8-channel audio from an HDMI input. The audio source and routing can be selected in the MiniConfig software and is embedded in the SDI output. This allows computer audio to be embedded within the SDI signal for easy, synchronized routing.
Features
DVI to SDI conversion
Region of Interest scaling
DVI loop through
Audio embedding
Aspect ratio conversion
Genlock input
Configure via USB port and supplied MiniConfig software
Uses 5-18VDC power (universal power supply included)
5-year warranty
Hi5-4K
Mini-Converter
AJA's Hi5-4K Mini-Converter provides a simple monitoring connection from professional 4K devices using 4 SDI outputs to new displays with 4K-capable 1.4a HDMI inputs. Hi5-4K is a single, highly-portable device that allows more affordable monitoring solutions in professional workflows.
Only $595 US MSRP*
* Pricing is for US only. International pricing will vary.
Please contact a local AJA Reseller for pricing details.
---
Connectivity
The latest generation of 4K monitors utilize the new HDMI 1.4a connection, which allows a full 4K signal to be passed over a single cable. Typical professional 4K workflows use four SDI cables to carry the full resolution image, making it difficult to incorporate the newer monitors. Hi5-4K is an easy-to-use converter that bridges the gap between these two worlds.
Audio
Up to 8-channels of embedded audio in the incoming SDI signal are carried through seamlessly into the HDMI 1.4a output, ensuring your audio is always in sync and can be easily played back on the connected monitor.
4K and UltraHD
Typical 4K signals use a resolution of 4096x2160 pixels while UltraHD signals measure 3840x2160. This difference can prevent some monitors from being used either in full 4K workflows or in UltraHD workflows. Hi5-4K can compensate for these resolution differences, allowing UltraHD monitors to be used in 4K productions and vice versa.
HD Support
Not every job is a 4K job. When you're not working in 4K, Hi5-4K can still be a useful tool for converting HD-SDI to HDMI. A single HD-SDI signal coming into the Hi5-4K will be sent out as an HD resolution HDMI signal, much like AJA's Hi5-3G Mini-Converter.
Features
4 3G-SDI inputs
HDMI 1.4 output
HD conversion supported
Embedded audio support
Configure via USB port and supplied MiniConfig software
Uses 5-20V power (universal power supply included)
5-year warranty